How To Install The Android 5.0 Developer Preview on The Nexus 5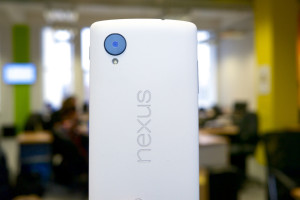 Android 5.0 Lollipop is gearing up to be the biggest update in the history of Google's mobile operating system. It will reportedly introduce a new battery-saving technology (dubbed Project Volta), along with new notifications, a Material Theme, and a kill switch. While Android 5.0 Lollipop is still a couple weeks away from its official release, Nexus 5 owners can download and install the Developer Preview mode in just a few easy steps.
It's important to note that this isn't the full version of Android 5.0. The Developer Preview mode is a slimmed down version that's designed primarily for testing and troubleshooting; therefore, you can expect to see some bugs and other quirks once it's installed. Google will almost certain iron out these kinks before the official release (if they haven't already), so don't worry about tarnishing your device with a bug-riddled OS.
"Since the L Developer Preview began, various APIs and behaviours have changed, so if you've been using the Preview SDK you should update now to test your apps and take advantage of new features," notes the Android Developer site.
The first step to running Android 5.0 Developer Preview on the Nexus 5 is to download the image at http://developer.android.com/preview/index.html#download. This is pretty much the same as any other device flashing process — you'll download the image and install on your Nexus 5. However, you'll need to choose the file titled "Hammerhead" to ensure it's compatible with the Nexus 5 (the other file, titled razor, is compatible with the Nexus 7).
Once you've downloaded the Hammerhead file from the link previously mentioned, extract it to your desktop or preferred location. Next, you'll need to open your  ADB/fastboot folder and transfer the recently extracted Hammerhead files from your desktop to the ADB/fastboot folder. Assuming you are running Windows 8, you can then right-click in an open space of the folder and select "run command." If you are running Windows 7, you'll have to hold the shift key followed by right-clicking and choosing open command window.
If you followed the steps mentioned above, you should have command access to the Nexus 5 Android 5.0 Lollipop. Feel free to play around with the different flashing commands to see what the new Android 5.0 has to offer  You can read the complete walkthrough tutorial at AndroidHeadlines.com. Along with instructions, the site also has a convenient list of commands.
Did you successfully install the Android 5.0 Lollipop Developer Preview on your Nexus 5? Let us know in the comments section below!