Nexus 5 AnTuTu Benchmark Might be a Hoax?
Earlier today, we wrote about how the Google Nexus 5 will crush all of its potential competition because of the newest benchmark results leaked today. Now, just a few hours later, we've come across another benchmark rumor, but this one doesn't feel right. In fact, one expert is calling the benchmark a hoax. What's the story with this leak/rumor?
AnTuTu's Benchmark
According to AnTuTu, the Nexus 5 showed up in its database and with a score of only 23345, which is bad in terms of smartphone comparisons. In fact, that score is so bad that AnTuTu admitted that the tested device was probably running an "abnormal OS" because it was supposed to be using a Snapdragon 800 CPU, which should have garnered a score of at least 30,000 as the Tegra 4 does, but it didn't.
One expert believes that the AnTuTu report is likely a hoax, especially considering the benchmark reported on earlier in the day shows the Nexus 5 outperforming the Galaxy S5, not to mention that it is at least on par with or better than the iPhone – and we have to agree for now.
"Abnormal OS" says AnTuTu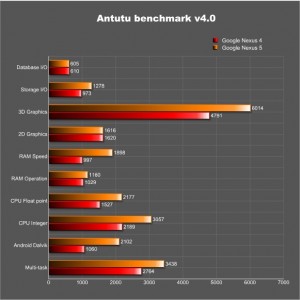 AnTuTu also reports that the test results confirmed the OS version – 4.4, but gave it the former name os KeyLinePie. Thought leaders everywhere believes that the Nexus 5 will sport the renamed Kit-Kat Android OS. If the Nexus 5 was indeed tested with "KeyLimePie" could that have been the "abnormal OS" they previously mentioned? Hmmm…
The benchmark also "confirms" that the device will sport an 8 megapixel camera, but other industry leading media outlets have reported a much better camera, topping 20 or so megapixels, as we have.
Who Can We Trust? 
A much more reliable benchmark was reported by PhoneArena today, and the report showed that the Nexus 5 did in fact test "brilliantly on two game simulation tests."Although they could not produce on-screen results just yet, PhoneArena mentioned that the off-screen results show that if the Nexus 5 features the Adreno 330 Graphics processing Unit, iPhone should be scared.
In any case, the PhoneArena simulation and results are certainly much more reliable than those of AnTuTu because, as TheDroidGuy.com put it,
"AnTuTu results can be so easily faked than even a child owning an N4 can claim he's got his hands on a Nexus 5 pre-release model."
We have to agree, both with PhoneArena and TheDroidGuy.com.  Any way you look at it, benchmarks can be faked, and big companies have previously done so, as evidenced here. Since we know that Nexus 5 is getting the Snapdragon 800 to back up the GPU, and that it is probably getting Kit-Kat, we'll just have to wait until its official release date for the proof.
 What do you think about the AnTuTu benchmark? Is it a hoax? let us know in the comments!
Screenshot Credit: AnTuTu Benchmark