Nexus 5 (2015) Rumor Roundup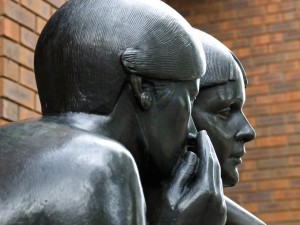 If you keep up with our blog here at TheNexus5.com, you're probably well aware of the current rumors suggesting that Google is preparing to launch a new generation of its Nexus 5 flagship smartphone. The Mountain View company is known for releasing new smartphones, but normally they are given their own name. This time, however, it's believed that Google will release a "reboot" of its highly popular Nexus 5 handset, which critics claim is Google's best handset.
While Google has yet to publicly announce the existence of a new Nexus 5 handset, sources close to the project have said that it is real. This should come as welcome news to the countless number of people who were less-than-pleased with the Nexus 6. When Google initially unveiled the Nexus 6, most people (myself included) expected to follow in the footsteps of the Nexus 5, offering users a fast, efficient, and affordable handset. Of course, this didn't happen, and users were left wanting more; thus, prompting Google to work on a new reboot of its 2013-2014 Nexus 5.
So, what kind of specs will the new Nexus 5 feature? According to a recent report published by GizmoChina, Google will be releasing not one but two variants of the N5 handset. LG will manufacture the less expensive variant, which will feature a 5.2-inch 1920 x 1080p P-OLED HD display, Qualcomm Snapdragon 620 processor, 4GB of random access memory (RAM), 64GB of internal storage, a 13-megapixel primary camera with autofocus and dual-tone LED flash, a 4-megapixel secondary "selfie" camera, 3,180 mAh non-removable battery, fingerprint scanner, rear power button, dual-facing speakers, WiFi/Bluebooth, and support for Google Pay — Google's new near-field communications (NFC) payment app.
The Huawei Nexus 5 is expected to be slightly larger, measuring 5.7 inches in diameter. It will also feature a larger battery, although we're not sure just how much of a difference it will really make considering the LG variant already has a powerful 3,180 mAh battery.
But now let's talk about the price, because this is something that prevented many people from buying the Nexus 6. Google dropped the ball with the Nexus 6's pricing, selling it for nearly twice as much as the original Nexus 5. While Google has made no official statement regarding pricing for either the LG or Huawei Nexus 5, rumors indicate that the handsets will be available to purchase for around $400.
"Reports have also indicated that the price range for the Nexus 5 2015 could be around $400, which is good news for dedicated Nexus users who were heartbroken when the Nexus 6 came out with a premium price tag," added the TechTimes. "Of course, all of these rumors and reports are exciting, but they have to be taken with a grain of salt as Google and its partners have yet to confirm any of the reports."
What kind of specs and features do you hope to see in the new Nexus 5? Let us know below!
Image attribution: https://www.flickr.com/photos/smithser/
Summary
Article Name
Nexus 5 (2015) Rumor Roundup
Description
Google's 2015 Nexus 5 release is still unconfirmed, but the rumors sure ring true. The next big question is how much with the new N5 cost?
Author