Are These The Specs For The 2015 Nexus 5?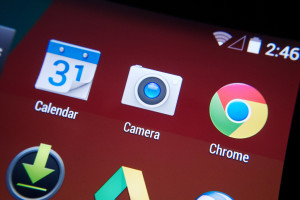 We first covered the story of a possible 2015 edition Nexus 5 earlier this month, citing rumors that LG would be producing the device. While neither Google nor LG have yet to confirm this rumor, new reports have emerged indicating that it is in fact true. In the meantime, though, consumers and tech junkies like myself are forced to scour the web in search of information about the mysterious device.
So, what kind of specs will the 2015 edition Nexus 5 feature? Concept Phones members Derek Kruk and Jack McNenny have created a mock-up design of what they believe the device will look like. You can click on the link above to check out their designs, but it basically looks like a slim, all-metal chrome smartphone.
The 2015 Nexus 5 mock-up also boasts some specs, such as a 5.1-inch AMOLED display with 2560 x 1440 Quad HD resolution, 3GB of random access memory (RAM), a 20-megapixel primary camera, a 5-megapixel secondary camera, front-facing stereo speakers, and a massive 3,000mAh capacity battery. A 20-megapixel camera would be an enormous improvement over the Nexus 5's 8-megapixel camera, and I'm sure most users would love the extra battery power with a 3,000mAh battery. Of course, these are are just mock-up specs, and they are no way "official."
It would only make sense for Google to release another version of the Nexus 5 given its enormous and widespread popularity. Granted, the Nexus 6 has been well received, but it lacks the charisma of its predecessor. The Nexus 6 is viewed by many as being too big and too expensive, limiting its appeal to a broader demographic. The Nexus 5 was arguably the perfect Android-powered smartphone, featuring a quad-core Snapdragon processor, 2GB of RAM, 16/32GB of storage, and an 8-megapixel camera. Furthermore, it sold for just $349 (for the 16GB model), which is almost half the price of the Nexus 6.
Whether or not Google is truly producing a 2015 edition Nexus 5 remains to be seen. However, all the signs point to yes. Assuming the Mountain View company does attempt to revive its flagship smartphone, the Nexus 5, we will likely see it released at some point this year.
What kind of specs do you hope to see in the 2015 Nexus 5? Let us know in the comments section below!
Summary
Article Name
Are These The Specs For The 2015 Nexus 5?
Description
Concept Phones members created a mock-up design of what specs they believe the 2015 Nexus 5 will have. A 2015 Nexus 5 has not been confirmed, but further rumors point to yes.
Author