How To Enable App Verification on The Nexus 5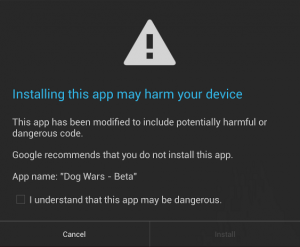 Even after 15 years of being on the market, the Nexus 5 remains one of the top-selling Android smartphones, and for good reason: it features a powerful quad-core Snapdragon processor, 2GB RAM, 8-megapixel primary camera, and it runs Google's signature Android operating system. But like mobile devices, it's susceptible to malicious attacks. You can safeguard your Nexus 5 from such attacks, however, by enabling App Verification.
You might be wondering whether or not cybersecurity is really a concern. After all, it's not like hackers target smartphones, right? To put the problem into perspective, a 12-month study conducted by the cybersecurity firm Kaspersky Lab found 3,408,112 malware detections on the devices of 1,023,202 users (source).
What Is App Verification?
App Verification is a feature found on Android devices which prevents the automatic installation of apps from sources outside the Google Play Store. Apps can be downloaded and installed to the Nexus 5 from two different sources: the Google Play Store and third-party websites. Google automatically scans all of the apps within the Play Store. Apps from outside sources, however, are NOT scanned; therefore, they may contain malicious code.
"The Google Play Store helps prevent harmful software from being installed on your device by blocking potentially harmful apps. If you install apps from other sources, you can turn on app verification to make sure the apps you install are scanned for malware. You'll also need to allow your device to download apps from sources other than the Google Play Store," wrote Google in its explanation of App Verification.
It's important to note that you can still download apps from sources outside of the Play Store with App Verification enabled. This feature simply displays a prompt when you attempt to download an app, warning you about the potential risks and asking if you'd like to proceed with the download.
How To Enable App Verification
To enable App Verification, access Settings > Security and enable the option "Scan device for security threats." This option serves two primary functions: first, it will warn you of the dangers of installing apps outside of Google Play. Second, it will periodically scan all apps installed on your Nexus 5 for potential threats. Should it discover a threat, it will either remove the app or recommend removal.
Were you able to activate app verification using the method published above? Let us know in the comments section below!