Google To Release The 'Android One' Smartphone This Month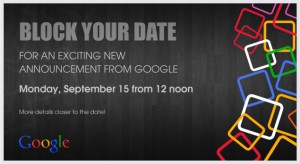 Google is reportedly planning to launch its budget-friendly "Android One" smartphone in India later this month. The Mountain View company announced the news in an invite sent to the press.
Granted, the invite only says "BLOCK YOUR DATE FOR AN EXCITING ANNOUNCEMENT FROM GOOGLE — MONDAY SEPTEMBER 15 FROM 12 NOON — More details closer to the date," but several media outlets are claiming the news is about the Android One.
Reports suggest that Google will launch the Android One smartphone at the event, alongside its partners Micromax, Intex, Celkon, Spice and Karbonn, all of whom have contributed directly to the device's hardware. Previous reports have hinted towards a September release date for the Android One, so it only makes sense for Google to release it during the September 15 event.
So, what exactly is the Android One? And is worth buying? We still don't know much about Google's secretive smartphone, other than it's incredibly low rock-bottom price tag. With all of the recent advancements in smartphone technology, consumers are used to seeing new devices priced at $500 or above (with the exception of the Nexus 5, of course). The Android One is expected to launch with a price tag of just $100. Yep, Google's upcoming smartphone will sell for a single Benjamin Franklin note.
The Android One will run the latest version of Google's Android operating system, which is an impressive feat by itself considering the device is sold for just $100. Regarding the hardware, we still don't know what type of processor, RAM, camera, or other specs it's packing. Consumers shouldn't expect too much from a device with such as low price tag, however. After all, spending just a couple hundred bucks more can get you a Nexus 5, which is almost certainly to pack more power and offer more features than the Android One. But if you are on a budget, the Android One May suffice.
The Times of India wrote the following about Google's upcoming Android One smartphone:
"The US-based tech giant had partnered domestic handset makers Micromax, Karbonn and Spice to bring these devices into India by October this year.

The device with Micromax would be a dual-SIM 4.5-inch screen device with a removable SD card, costing less than $100, Google SVP (Android, Chrome and Apps), Sundar Pichai had said at the firm's developers conference in San Francisco."
What do you think about Google's new Android One smartphone? We'd love to hear your opinion!