What to Expect During Google's Sep. 29 Event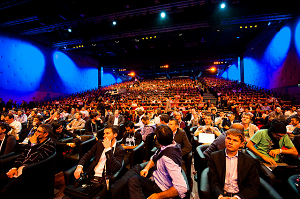 In case you didn't get the memo, Google is holding a press event on September 29, 2015. While the Mountain View company hasn't revealed what the event is about — other than "sweet treats" will be provided to guests — many people believe that Google will use the event to announce its new Nexus 5 and Nexus 6 smartphones. So if you've been eagerly awaiting the arrival of a new Nexus 5 reboot, you might be in luck.
Two Smartphones
I think most people were pretty surprised to learn that Google was bringing back the Nexus 5 with a new reboot model. What's even more shocking, however, is that Google is also planning to revive the Nexus 6 handset. Reports indicate that Google will announce a Nexus 5X and Nexus 6P during the September 29 event.
Big or Small — You Choose
Google has been criticized in recent months for its use of a 6-inch display on its Nexus 6 flagship smartphone. To put that size into perspective, that's just one inch smaller than a standard 7-inch tablet. Of course, some consumers prefer these oversized phablet-like handsets, but other consumers prefer smaller, more portable handsets. Rather than producing just a single smartphone in a single size, Google made the ingenious move to launch two separate smartphones, with varying sizes. The Nexus 5X is expected to feature a 5.2-inch display, which is just slightly larger than the original Nexus 5. The Nexus 6P, on the other hand, will boast a 5.7-inch display.
Price
Of course, you can expect to hear a price for the new Nexus 5X and Nexus 6P during the September 29 event. One of the reasons why the original Nexus 5 was such a hit was because of its budget-friendly pricing. Google sold the handset for just $349 for the 16GB model and $399 for the 32GB model. Smartphones with similar specs were roughly 50% more expensive, making the Nexus 5 an incredibly affordable, and powerful, smartphone that's still relevant several years after its launch.
So, how much will the new Nexus 5X and Nexus 6P cost? We really won't know until September 29, but the Nexus 5X will likely be the more affordable option of the two. Some sources are claiming the Nexus 5X will cost between $300 and $400, while the Nexus 6S will cost around $400 to $500.
Carrier Availability
Assuming Google uses the September 29 to announce its new Nexus 5X and Nexus 6S smartphones, it should reveal which carriers support its new handsets. When Google launched its original Nexus 5, all major U.S. cell carriers supported it except for Verizon Wireless. This was a huge disadvantage, yet it didn't seem to have a profound effect on sales. It's unknown at this time exactly which carriers will support the Nexus 5X and Nexus 6. However, we can only hope that Google has settled its dispute with Verizon Wireless, allowing the Big Red carrier to support its new devices.
Are you looking forward to the Nexus 5 (2015) announcement? Let us know in the comments section below!
Image attribution: https://www.flickr.com/photos/leweb3/
Summary
Article Name
What to Expect During Google's Sep. 29 Event
Description
The long-awaited September 29 date is here, when Google is expected to launch its two versions of the Nexus 5 smartphones, the Nexus 5X and Nexus 6P!
Author