How To Use The Nexus 5's Pedometer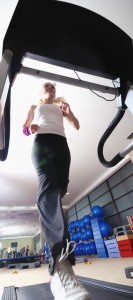 The Nexus 5 isn't known for being a health and fitness-oriented smartphone, nor does it claim to be. Google's flagship smartphone simply delivers a fast, efficient, and reliable handset at an incredibly low price. However, many users are surprised to learn that the Nexus 5 actually features a built-in sensor for detecting steps, as well as a step-counting sensor. With a little bit of tweaking, you can leverage these components to turn your Nexus 5 into a highly accurate pedometer.
The problem with pedometers on most smartphones and fitness tracking devices is that they use a combination of sensors — GPS, tilt, movement, etc — to estimate how much walking the user has done. Why is this a problem? Well, without dedicated pedometer hardware, the device is essentially guessing how many steps you've taken. The Nexus 5 takes a different approach, however, by using step-counting and step-detecting components to create a more accurate readout.
If you browse through your Nexus 5's app, you probably won't find a pedometer app. While Google added the necessary hardware to support this function, it did not include a dedicated app. So if you want to count your steps using the Nexus 5, you'll need to download and install a third-party pedometer app, such as J4velin's Pedometer. Available for free on Google Play, this app was reportedly made specifically for the Nexus 5. It leverages the Nexus 5's hardware to create a fully functional, accurate pedometer.
What's even more impressive is that J4velin's Pedometer won't impact the battery life of your Nexus 5. Again, this is because it uses the Nexus 5's step-counting and step-detecting sensors rather than GPS or other sensors.
"This app is designed to be running all the time without having any impact on your battery life! It uses the hardware step detection sensor of the Nexus 5, which is already running even when not using any pedometer app. Therefore the app does not consume any additional battery drain. Unlike other pedometer apps, this app does not track your movement or your location so it doesn't need to turn on your GPS sensor (again: no impact on your battery)," wrote j4velin in the app's description.
It's important to note that J4velin's Pedometer tracks steps in metric units by default. You can change this, however, by selecting Settings > Step size.
Do you use your Nexus 5 as a pedometer? Let us know in the comments section below!