Flyme OS Beta Now Available For The Nexus 5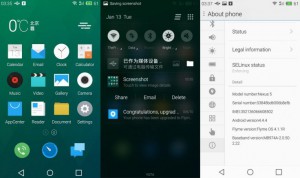 Tired of using the same old Android operating system on your Nexus 5? If so, you should consider installing Flyme. This highly customizable OS mod is found on Meizu smartphones. Thanks to efforts by an active community of developers, however, it's now available for the Nexus 5.
AndroidCommunity first reported about several leaked photos of FlymeOS 4 Beta depicting the Nexus 5. The website goes on to say that testers initially described the mod as being "beautiful," leaving many to assume the mod was complete. Further testing, however, revealed that FlymeOS 4 is not an official version.
If this is your first time hearing about FlymeOS, let me explain what it is: basically, it's a software mod that runs parallel with Google's Android operating system. Meizu first introduced the FlymeOS mod back in September of last year with its MX4 smartphone. Consumers and industry professionals alike praised the China-based company for its customizable, intuitive and easy-to-use mod.
Now for the bad news: the beta version of FlymeOS — which is currently the only version available for the Nexus 5 — isn't complete. Yes, you can download and install it on your Nexus 5, but you can expect to encounter some bugs during the process. Nexus 5 users running FlymeOS say it's workable, although riddled with bugs at times. There are no critical vulnerabilities or security issues known at this time, but the mod contains dozens of bugs when used on the Nexus 5.
If you're interesting in installing FlymeOS on your Nexus 5, head over to the International Business Times website for a step-by-step guide. Be warned, this isn't a beginner-friendly task. It involves flashing your device, which may result in a complete loss of data. So before you start, make sure your Nexus 5's data is backed up. You'll also need to enable USB Debugging Mode, which is done by tapping Settings > About Phone > and tap the Build Number seven times. This should display a message confirming the enabling of USB Debugging Mode.
"Established in 2003 and headquartered in Zhuhai, China, MEIZU designs and produces smartphones created to provide a simple, intuitive mobile experience for people whose time is expected to be simply spent in using their devices, instead of figuring out the way of using them," wrote Meizu, the maker of FlymeOS, on its website.
Are you running FlymeOS on your Nexus 5? Let us know in the comments section below!