Are These The Dimensions for The New Nexus 5?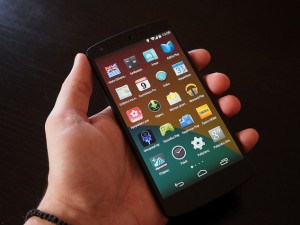 As we edge closer to the Nexus 5's rumored launch date (October-November), more details continue to be leaked about this highly anticipated smartphone. The latest leak comes from the well-known mobile tipster @OnLeaks, who recently tweeted the purported dimensions for Google's upcoming flagship smartphone.
While @OnLeaks is in no way affiliated with Google, the tipster has a pretty solid track record regarding smartphone specs. He's leaked accurate details on dozens of smartphones, including previous Nexus devices, as well as Samsung Galaxy handsets. Does this mean his tweets about the new Nexus 5's dimensions are correct? We still don't know, as Google has yet to confirm nor deny its existence.
According to @OnLeaks, Google will be releasing two versions of the new Nexus 5. One will be manufactured by LG and another will be manufactured by Huawei. We've heard previous rumors indicating that two versions of the Nexus 5 will be released, but this is the first time that we've seen actual dimensions for them.
@OnLeaks claims the Huawei Nexus 5 (2015) will measure 159.4×78.3×6.6/8.5mm, boasting a pair of front-facing speakers, as well as a rear fingerprint sensor. The LG version, on the other hand, will sport a 146.9×72.9×8/9.8mm body, featuring the same front-facing speakers and rear fingerprint sensor.
You can see the tweets made by @OnLeaks below:
"#Huawei's #NEXUS: Metal Body,roughly 159.4×78.3×6.6/8.5mm,likely 5.7″ Screen,Front Facing Speakers,Fingerprint Sensor on the Back,USB Type-C"
"#LG's New #NEXUS: Likely Metal Body,roughly 146.9×72.9×8/9.8mm,5.2″ Screen,Front Facing Speakers,Fingerprint Sensor on the Back,USB Type-C"
So, what exactly do these tweets tell us? Based on the dimensions leaked by @OnLeaks, it's safe to assume the LG version will be slightly smaller than its counterpart. We've heard rumors that the Huawei version would be larger, so these tweets just reinforce this belief. The LG Nexus 5 is expected to sport a 5.2-inch display, whereas the Huawei version is slightly larger at 5.7 inches.
In terms of specs, the Huawei version is also expected to feature upgraded hardware. Reports indicate that it will feature a faster processor, more random access memory (RAM), and potentially even a better camera. This doesn't necessarily mean that the LG version is "sub-par," but rather the Huawei version is being designed as a premium model. In terms of pricing, the Huawei Nexus 5 will most likely cost a couple hundred bucks more than its LG counterpart.
Google will most likely announce the new Nexus 5 in the upcoming months, so mark your calenders. If the device will be released in October-November, we'll probably hear an announcement at least a couple months prior. In the meantime, though, you can check back with our blog here at TheNexus5.com for all of the latest news surrounding Google's upcoming launch.
What kind of features and specs do you hope to see in the new Nexus 5? Let us know below!
Summary
Article Name
Are These The Dimensions for The New Nexus 5?
Description
More credible leaks on the 2015 Nexus 5 have emerged, giving us the dimensions on both of the alleged models.
Author