Did Google Just Reveal The New Nexus 5's Fingerprint Scanner?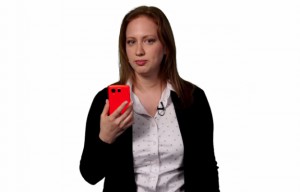 If you keep up with our blog, you're probably well aware that Google is currently working on a new 2015-edition Nexus 5 smartphone. While the Nexus 6 wasn't exactly a flop, it didn't attract the same praise as the Nexus 5. Google is hoping to capitalize on the N5's long-running popularity by releasing at least one, possibly two, new handsets later this year.
There's still much we don't know about the 2015 edition Nexus 5. However, a Reddit user recently posted a video of what he says is the new Nexus 5's fingerprint scanner. The roughly 6-minute-long video focuses on Google's fingerprint and payments API. It's a typical Google video that explains how Android Pay works, along with the use of a fingerprint scanner (supported in Android M). About halfway through is where things get interesting.
If you fast forward to the 2:56 mark, you'll notice a red Nexus 5 device with a fingerprint sensor on the back. Is this is the new Nexus 5 reboot, or is it just some mock device Google created on the fly to use in the video? These are questions that remain unanswered at this time. What we do know is that the device isn't the original Nexus 5, nor is it the Nexus 6.
One of the users in the Reddit thread pointed out the device also sports a USB-C port, which could indicate that it's at least tied to the new Nexus 5 reboot. In any case, you can watch the video in its entirety below.
Video: Fingerprint and payments APIs (100 Days of Google Dev)
Another Reddit user in this same thread complained that the original Nexus 5 was somewhat underpowered when it comes to multitasking, which is something that Google will likely address with the new reboot.
"My big wish for the new N5 is a next gen storage solution like samsung's UFS. The only time i ever feel like my N5 is under powered is when i am multitasking with apps installing/updating. I see lots of framerate drops in play store animations due to slow R/W speeds on the slow nand. UFS is 5X faster," wrote one Reddit user. "CPU/GPU performance on the 800 is plenty fast for me, but the N5's storage is really slow compared to modern flagships. Even a decent standard nand solution in phones like the G3/G4/Note4 are 2-3X faster."
Are you looking forward to the new Nexus 5? Let us know in the comments section below!
Summary
Article Name
Did Google Just Reveal The New Nexus 5's Fingerprint Scanner?
Description
A new video has surfaced, purportedly showing the new Nexus 5 fingerprint scanner and how Android Pay works - read on to watch the video!
Author