What Happened To The Nexus 6's Fingerprint Scanner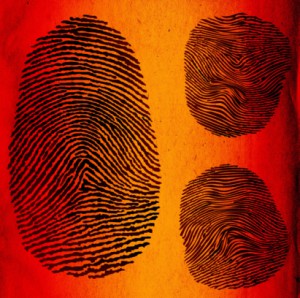 Before the Nexus 6 was released, it was rumored to sport an advanced fingerprint scanner. Of course, this should come as no surprise since other devices like the Samsung Galaxy S5, Note 4, and iPhone 5 have this feature. When Google finally released the Nexus 5's successor, however, fans were shocked to discover that it did not have fingerprint scanner. So, why did Google nix this feature in its flagship smartphone?
Originally, the Nexus 6 was supposed to have a feature which allowed users to unlock their device by pressing their finger against a small sensor on the back. By calculating the precise locations of the pressure, the device would create a digital image of the user's fingerprint, cross-referencing it with the owner's fingerprint. Assuming the two matched, the device would unlock and the user would be granted access. But new reports suggest that Apple is to blame for this lacking feature in the Nexus 6.
In an article published by The Telegraph, Motorola CEO Dennis Woodside said the reason why the Nexus 6 doesn't have a fingerprint scanner is because Apple purchased the leading fingerprint recognition company.
"The secret behind that is that it was supposed to be fingerprint recognition, and Apple bought the best supplier. So the second best supplier was the only one available to everyone else in the industry and they weren't there yet," said Dennis Woodside, Motorola CEO, in an interview with The Telegraph.
Although he didn't mention the company by name, it's safe to assume that Woodside is referring to AuthenTec, which Apple purchased back in 2012 to improve the fingerprint technology used in its iPhone 5s. AuthenTec is one of the world's leading fingerprint recognition companies, developing new fingerprint technologies while enhancing existing ones. With Apple now controlling AuthenTec, however, Google was forced to look elsewhere for a fingerprint scanning solution, and unfortunately nothing panned out.
Of course, the lack of a fingerprint scanner isn't necessarily a deal-breaker for most smartphone users. The Nexus 6 packs a powerful punch with its full-HD 5.96-inch display, 64-bit Qualcomm Snapdragon 805 processor, 3GB RAM, 32/64GB storage, 13-megapixel primary camera, 3-megapixel secondary camera, and a non-removable Li-Po 3220 mAh battery. The only real downside to the Nexus 6 — aside from its lack of a fingerprint scanner — is its starting cost of $649, which is nearly twice the cost of the Nexus 5.
What are your thoughts on the Nexus 6's fingerprint scanner? Let us know in the comments section below!