This Is Why The Nexus 6 Is Out of Stock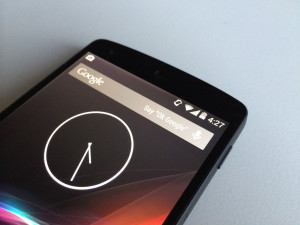 When Google first announced its Nexus 6 flagship smartphone back in November, experts knew demand would be high. The Nexus 5 was arguably one of the most successful smartphones of 2013-2014, smashing sales records in numerous countries; therefore, it would only make sense for its successor to experience similar results. This begs the question: why is it so hard to buy the Nexus 6 if Google knew the demand would be high?
Google apparently took additional steps to ensure the Nexus 6 would be readily available to consumers. In addition to selling it through Google Play, the Mountain View company signed a deal with the nation's leading cell carriers — AT&T, T-Mobile and Sprint — to sell it as well. This is in stark contrast to the Nexus 5, which was sold without a contract. Now, however, consumers can purchase the Nexus 6 at a discount price by signing a 2-year agreement with one of the aforementioned carriers.
The ability to purchase the Nexus 6 with a 2-year agreement is likely part of the reason for its high demand. In the past, consumers were force to pay the full price for the Nexus 5. Granted, the Nexus 5 sold for just $349 for the 16GB mode land $399 for the 32GB model, but consumers didn't have the option to sign a 2-year agreement. This has since changed with the Nexus 6, however, as consumers can buy Google's latest smartphone at a discount through a cell carrier.
But the real reason for the Nexus 6′ low supply could be related to something entirely different. In an interview, Google's Chief Financial Officer said Google has "issues" that prevented it from obtaining the necessary inventory to meet consumer demand.
"While the Nexus [6] was very well received as a new phone, we had real issues and were unable to secure sufficient inventory to meet the demand that we had forecasted," said Google CFO Patrick Pichette.
Of course, there's a good reason why the demand is high for the Nexus 6. Google's newest flagship smartphones boats an impressive 5.96-inch Quad HD display covered in Corning Gorilla Glass, a 13-megapixel primary camera, 5-megapixel secondary camera, an all-aluminum body, 64-bit Qualcomm Snapdragon 805 processor, 3GB RAM, 3,200 mAH battery, and Google's signature Android 5.0 Lollipop operating system.
Were you able to get your hands on a Nexus 6? Let us know in the comments section below!