How To Use Face Unlock On The Google Nexus 5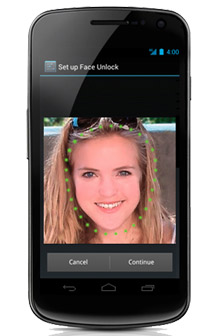 Move Apple, there's a new way to unlock smartphone devices and this one doesn't involve any touching. Google's patented Face Unlock technology made its debut on the Nexus, offering users a fun new alternative to traditional PIN numbers.
Is Face Unlock a New Feature?
Not at all. You might be surprised to learn that Face Unlock was first released back in 2011 on Android 4.0 (Ice cream Sandwich), which was long before Apple released their fingerprint scanning technology for the iPhone.
When it was initially released, however, Face Unlock was more of a novelty feature with minimal effectiveness as a security tool. This prevented users from switching over from PIN format due to the potential security risks. If someone stole a Nexus smartphone secured with Face Unlock technology, there's a good chance they could gain access simply by taking pictures from different angles. And if this doesn't work, a thief could simply hold a photo of the owner up to the device for immediate access.
The New and Improved Face Unlock
Thankfully, Google made great strides over the years to improve their Face Unlock technology. In July 2012, they added a "liveness" check to the technology to prevent users from unlocking devices with still photos. In order for Face Unlock to work in Android 4.1 and newer devices, the user must blink; otherwise, they won't pass the "liveness" check. This was really a small change that had a big impact on the functionality of this technology.
Google also improved its accuracy to ensure it would only accept the original owner's face. There's still small margin for error — as with any non-PIN unlocking technologies — but Face Unlock is far more accurate today than it was back in 2011.
Face Unlock On The Nexus 5
Power up your Nexus 5 device
Tap on the "Settings" app
Tap on "Personal"
Tap on "Security"
Tap on "Screen Lock"
Scroll through the options and select "Face Unlock"
Note: assuming you are using a Nexus 5 device, Face Unlock should be an option under "Screen Lock." If you are using an older Android-powered smartphone, however, this may not be an option.
Adjust Face Unlock Settings
You can adjust the settings for your Nexus 5's Face Unlock technology under Settings –> Personal –> Security. Here, you can adjust the sensitivity along with other settings for Face Check.
Do you use Face Unlock on your Nexus 5 device? Let us know in the comments section below!