Nexus 5 Easier To Repair Than Nexus 6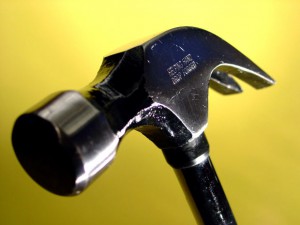 We blogged about the Nexus 5 being faster than the Nexus 6 earlier this month. As you can expect, this caused some controversy over Google's new flagship smartphone. But a new report suggests suggests the Nexus 5, which has now been on the market for over a year, is also easier to repair than the Nexus 6.
Granted, most users will never find themselves in a position where they need to repair a smartphone. However, there's always the possibility that something will happen, whether it's dropping your device on the ground, jumping into a swimming pool with your device in your pocket, etc. For reasons such as this, it's nice to know that your cherished smartphone is easily repairable.
So, just how easy (or difficult) is the Nexus 6 to repair? According to the do-it-yourself instructional repair website FixIt.com, the device scored a 6 out of 10, which is the same rating as the Apple iPhone 6 Plus. In other words, the Nexus 6 achieved a failing grade in terms of repairability.
With an oversized 6″ display covered in Corning Gorilla Glass 3, the Nexus 6 is a beautiful phablet-sized smartphone with top-of-the-line hardware. If you plan on doing any repairs or maintenance to the hardware, though, you can expect to encounter some challenges. Motorola manufactured the device in a manner that's very user-unfriendly. This is perfectly fine if you plan to send your device back to Motorola or Google for repairs, but it's not okay if you plan on attempting the repairs yourself
"With cables decoupled, it's suddenly delightfully apparent why there were so many screws in the midframe. The Nexus 6 practically falls apart into two halves; the midframe/battery assembly, and the display/motherboard assembly."
So, how did the Nexus 5 fare on FixIt.com? The repair website gave the Nexus 5 a slightly more favorable score of 7 out of 10. Its smaller body and well-structured components allow for an easier repair.
The Nexus 6 is surprisingly easy to open. Once the outer case is popped off, you can must remove about two dozen small crews holding a second cover, at which point you'll have complete access to the components. Don't let this fool you into thinking making a repairs is easy, though. On the contrary, it's highly technical and not recommended for beginners. .You can read the full repairability report on the Nexus 6 by visiting https://www.ifixit.com/Teardown/Nexus+6+Teardown/32877.
Do you plan on upgrading to the Nexus 6? Let us know in the comments section below!