Nexus 6 Battery Charge vs Nexus 5: Which One Wins?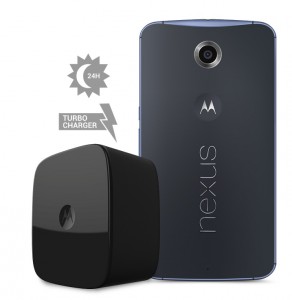 There's nothing more frustrating than being forced to plug your smartphone into a wall outlet 24/7. Unfortunately, this is an all-too-common scenario experienced by thousands of users. And to make matters worse, performing certain tasks, such as using the GPS or watching videos, can draw battery power from their device faster than it's able to recharge; thus, resulting in a dead battery even when it's plugged into a wall outlet. So, how does the Nexus 6's battery fare against the Nexus 5's?
As you may already know, the Nexus 5 boasts a non-removable Li-Po 2300 mAh battery with up to 14 hours of talk time. It's not the biggest battery, nor is it the most powerful, bit it's still a decent power source that will keep your device running for nearly a full day. Being that the Nexus 6 is the successor to the Nexus 5, Google had to make some improvements, including the use of a new battery. The Nexus 6 features an even more powerful 3,220mAh battery.
According to a benchmark test conducted by GSM Arena, the Nexus 6 delivered 16 hours and 40 minutes of talk time. The Nexus 6  also delivered ten hours of video playback when tested by engineers. These numbers are slightly higher than those of the Nexus 5, making Google's phablet-sized smartphone just a little more appealing to loyal Nexus 5 users.
GSM Arena conducted another benchmark to determine how long Google's new flagship smartphone would last on a single charge while browsing the web. They found it to last eight full hours, whereas the Nexus 5 lasted four hours and 46 minutes.
These benchmarks attest to the power of Google's Nexus 6 smartphone. But battery power isn't holding users back from upgrading to the Nexus 6; it's the cost. Google has long priced its Nexus smartphones well below devices of similar specs, with the Nexus 5 costing just $349 (32GB model) on the day of its launch — and that price doesn't force users to sign another contract with their respective cell carriers. The Nexus 6, on the other hand, costs a whopping $649 for the 32GB model and $699 for the 64GB model. Of course, you can purchase the device at a discount price if you're willing to enter another 2-year agreement with your cell carrier, but this is something that many users want to avoid.
Do you prefer the Nexus 5 or Nexus 6? Let us know in the comments section below!