Nexus 5 'Snap Case' Now Available Through Google Play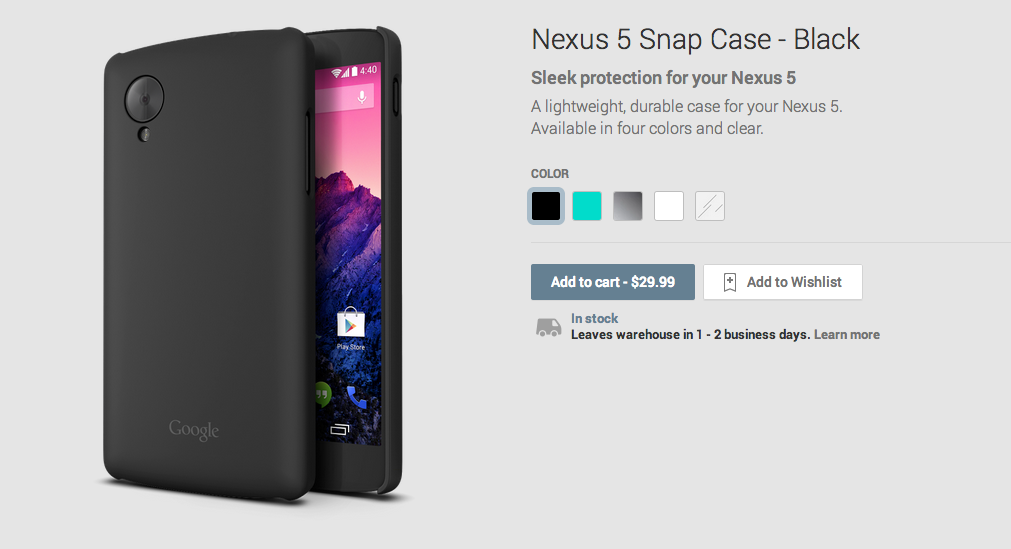 The market is flooded with hundreds of different cases designed to fit the Nexus 5. Unfortunately, most of these are cheap, poorly manufactured cases that offer little-to-no actual protection. Google has identified the need for 'premium' Nexus 5 cases by adding a new product to Google Play: the Snap Case.
What Is The Snap Case?
As the name suggests, the Snap Case is a strong, durable hard-shell case designed specifically for the Nexus 5. The tough outer shell protects the Nexus 5 against blunt force trauma, scratches, scuffs, drops and other common forms of damage. It's important to note, however, that the Snap Case is not waterproof. If you frequently work around water — or if you have a tendency to drop your phone in the toilet — you should invest in an OtterBox or LifeProof case
Available exclusively through Google Play (at least for now), you can rest assured knowing it will hold up under pressure, which is something that can't be said for other cases on the market. The downside to purchasing an official Google-branded case for the Nexus 5 is the price. The Snap Case is currently being sold for $29.99, which may discourage some budget-conscious shoppers from buying it. After all, there are dozens of similar cases available for a fraction of price. While they may not have the label of being "official," they offer a comparable level of protection — assuming you choose a name-brand case.
The Snap Case is currently available in the following colors:
Black
White
Aqua
Silver
Clear
Is The Snap Case Worth $29.99?
Everyone is entitled to their opinion, but I certainly feel like the Snap Case is well worth the $29.99 price tag listed on Google Play. It's a beautiful, albeit simple, case that's optimized specifically for the Nexus 5. And if you've spent any time shopping for 'premium' Nexus 5 cases, you're probably well aware of just expensive they can be (some cases cost $100+).
My only two complaints with the Snap Case is its price and lack of waterproof technology. I'm a clumsy individual who needs a waterproof case, and I just don't think the Snap Case will cut it for me. However, if you're rarely around water, this case will do the job just fine. Head over to Google Play and check it out while it's still in stock!
Would you pay $29.99 for the official Nexus 5 Snap Case? Let us know in the comments section below!