Google Workshop To Allow Custom Nexus 5 Case Designs
Google is reportedly preparing to release a new Workshop in which users can design their own Nexus 5 case using a variety of different customization options. So if you're tired of using the same generic case on your Nexus 5, you should keep your eyes peeled for this new service. While it's not live as of writing this, rumors suggest the Mountain View company is on the verge of releasing its Workshop program.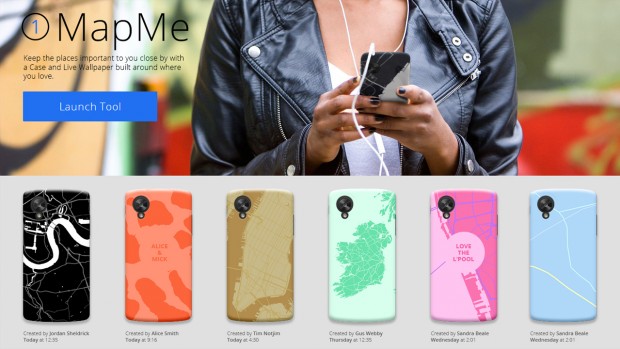 The Nexus 5 is arguably one of the best all-around smartphones on the market. It's been almost a year since it was released, and yet it remains a top-selling device with a competitive price. However, one of the issues Google has struggled with is case varieties. The Big G did a phenomenal job at at producing a high-end smartphone at a rock-bottom price, but it failed to pair it with equally impressive accessories. This may soon change, though, as Google is rumored to release its Workshop program in the upcoming months.
According to AndroidPolice, Workshop will consist of  two primary tools, one of which is MapMe. This tool allows users to design a custom Nexus 5 case with geographically relevant images. Google will identify your location based on your IP address and offer design suggestions, such as maps, street views, satellite views, etc. By incorporating these designs into your Nexus 5 case, you'll have a unique and relevant design that's sure to turn some heads. Of course, we don't recommend designing a case with your actual street address, but using a general layout of your city/region is perfectly acceptable.
The second tool included in Google's Workshop is Moments. This tool allows users to upload their own photos and images to use in their Nexus 5 case design. If you want an official Google case for your device that includes a photo of your family, you will soon be able to acquire one with the Moments tool. Once you've uploaded a photo, you'll have the option to include it in either your case design or a live photo. Of course, you can upload two photos: one for the case and another for a live wallpaper.
The Moments tool also comes with built-in filters, a repositioning option, and the option to add your text. With full control over design, users can turn their vision into an actual Nexus 5 case.
Would you purchase a custom designed Nexus 5 case? Let us know what you think in the comments section below!