How To Use Google Now on The Nexus 5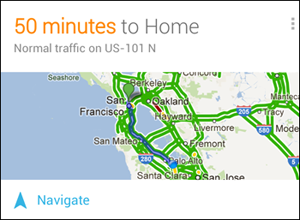 Google Now is a nifty feature that's found exclusively in Google's smartphones and tablets. Among other things, it can be set up to display the current weather, traffic conditions for your morning (or afternoon) commute, and even your favorite sports team's scores. Of course, this is just the tip of the iceberg when ti comes to this versatile tool. To learn more about Google Now and how to set it up on your Nexus 5 smartphone, keep reading.
Google Now operates in conjunction with "Cards." Basically, you define which Cards you want the program to display on your Nexus 5. Some of the different Cards include Gmail, website, stocks, recent searches, research, activity summary, parking location, and more.
To use Google Now, swipe your finger across the leftmost home screen of your Nexus 5, at which point the program should open. You can the add and customize the cards you wish to display on your device. Feel free to experiment with a variety of different cards. If you are unhappy with the outcome, you can always go back to remove or replace them later.
Note: if you want to see more Cards, touch the "More" icon at the bottom of the screen. If you want to hide them, simply swipe your finger across them.
Google Now isn't limited strictly to the Nexus 5. It's also available on Apple iOS devices, wearable Android electronics (smartwatches), computers,  and even the Google Glass. Google notes that the program "works in the background," meaning you don't have to find and open the app to use it. Everything is organized on Cards that automatically show up when they are needed. It's a ground-breaking tool that's sure to gain momentum and popularity and more and more people use it.
"Google Now works in the background so you don't have to. Your information is automatically organized into simple cards that appear just when they're needed. Because Google Now is ready whenever you are, you can spend less time digging and more time living."

"Google Now delivers the information you care about, without you having to search for it. When you choose the cards most relevant to you, Google Now learns how to help manage your day, letting you focus on what matters," wrote the Mountain View company in its description of Google Now.
What are your thoughts on Google Now? Let us know in the comments section below!