It's Official: Google Has Stopped Selling The Nexus 5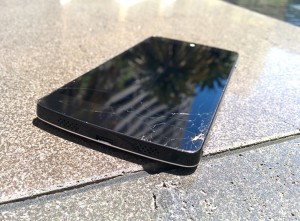 Google has officially stopped selling the Nexus 5 smartphone through its Google Play store, according to a new report published by The Verge. You can still purchase the Nexus 6, Nexus 7, Nexus 9, and related accessories on Google Play, but a search for "Nexus 5" will yield "no results found."
A spokesperson for Google reportedly told The Verge "While some inventory of Nexus 5 still exists (with our retail and carrier partners), our focus is on the Nexus 6 at this time," and that it would "continue to be available for sale on Google Play and through select retailers in Q1 2015." While the unnamed spokesperson claimed that remaining Nexus 5 units would still be available for purchase through Google Play, we didn't find any at the time of writing this post.
Of course, this should come as no surprise given the recent launch of the Nexus 6, the Nexus 5's successor. The Nexus 6 offers a bigger display, more RAM, a faster processor, a better camera, an other perks that aren't found in the Nexus 6. But that doesn't necessarily mean it's the best choice. On the contrary, many users prefer the Nexus 5's 4.95-inch display over the Nexus 6's 5.95-inch display. At nearly 6 full inches, it's practically the size of a tablet, making it difficult and downright uncomfortable to carry around in your pocket. Furthermore, Google has priced the Nexus 6 at $649 for the 32GB model and $699 for the 64GB model, which is considerably more expensive than the Nexus 5's starting price of just $349.
Google has invested a great deal of resources into developing and marketing the Nexus 6, but the fact remains that many people still prefer the old fashioned Nexus 5. The good news is that you can still purchase the Nexus 5, even after Google has removed it from its Play store. eBay, Amazon, and various online/in-store retailers offer the device, some of whom sell it at a cheaper price than  Google.
It's also worth noting that Google is rumored to be working on a 2015 edition Nexus 5. There's no official confirmation from Google regarding this device, but several credible sources say it's true. So even if Google has stopped selling the Nexus 5, it could be preparing to release a new device. You can check back with our blog here at TheNexus5.com for all of the latest news surrounding the 2015 edition Nexus 5!
Do you think Google made the right decision to stop selling the Nexus 5? Let us know in the comments section below!