Google Halts Production of The Nexus 5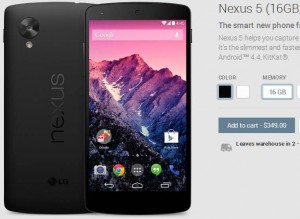 With the Nexus 6 officially here, it was only a matter of time before Google stopped producing the Nexus 5. Well, it looks like that time has come, as a spokesperson for the Mountain View company confirmed that it will no longer produce the popular handset.
The Nexus 5 was originally released October 31, 2013, featuring a quad-core Qualcomm Snapdragon 800 processor, 2GB RAM, 8-megapixel primary camera, and the vanilla version of Android KitKat 4.4. Its most attractive feature, however, was its budget-friendly price tag of just $349 for the 16GB model and $399 for the 32GB model — a fraction of the price of similar smartphones.
But if you're looking to get your hands on a Nexus 5, you should probably go ahead and buy it. When the new year rolls around, Google's inventory will begin to dry up. And assuming the reports are correct, Google will NOT produce additional units of the Nexus 5.
When asked about the future of the Nexus 5, a Google spokesperson told TechTimes.com that "once they are gone, they're gone, so we'd suggest people get them while they can." Of course, this shouldn't come a surprise to most smartphone enthusiasts, as Google expects the Nexus 6 to take the place of its predecessor. It's not uncommon for companies to stop producing older model devices to free up money and resources for newer models.
The problem with the Nexus 6, however, is that many users are complaining about its price and size. Unlike its predecessor, the Nexus 6 is not budget-friendly. The 32GB model sells for $649, whereas the 64GB model sells for $699. That's obviously a steep price hike from the Nexus 5's price tag, and some users are simply unwilling to pay that much. Another issue with the Nexus 6 is its massive, phablet-sized display. The Nexus 5 just feels right with its 4.95-inch screen. The Nexus 6, on the other hand, is considerably larger with its 6-inch display.
You can still buy the Nexus 5 through Google Play as well as third-party retailers and vendors. Of course, you'll want to act fast, because once they are gone, they are gone for good — at least that's what a spokesperson for Google is saying!
Do you agree with Google's decision to halt production of the Nexus 5? Let us know in the comments section below!