5 Fun Facts About the Original Nexus 5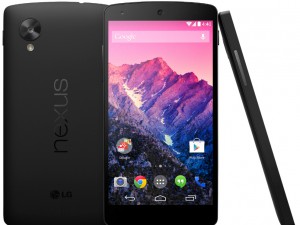 Think you know everything there is to know about the Nexus 5 handset? Guess again. Today we're going to share some fun facts about Google's popular N5 smartphone.
It Was Released on Halloween
Halloween isn't exactly a prime date for mobile device sales, but that didn't stop Google from releasing its flagship smartphone on the spookiest day of the year. While Google has announced the device several months prior, it wasn't released until October 31, 2013. I think it's safe to say this was a smart move on Google's part, because the Nexus 5 has become one of the company's best-selling handsets of all time.
It Was Similar to the LG G2
In a good way, of course! Both the Google Nexus 5 and LG G2 featured a 2.26 GHz quad-core Snapdragon processor, along with 2GB of random access memory (RAM), a 2,300 mAh rechargeable battery, and either 16 or 32GB of internal storage. In terms of hardware, these two devices were very much the same, but there was one key difference standing between them: the price. At just $349, the Nexus 5 cost significantly less than its G2 counterpart, making it a popular choice for budget-conscious consumers.
It Was Discontinued in March
All good things must eventually come to an end, and the Nexus 5 is no exception. On March 11, 2015, Google officially discontinued its long-running and highly popular Nexus 5 smartphone. Granted, this was a long time in the making, as most people expected the handset to be discontinued, but it was still disheartening to see if finally removed. With that said, you can still purchase the device from private dealers and third-party vendors, many of whom are selling it at steep discounts from its already affordable price tag.
Black, White and Red
Google has initially launched the Nexus 5 in a single color: black (see image above). While no one complained about the company's decision to use a single color — not that we know of, at least — it proceeded to launch two alternative colors in the months to follow: a red and white model. These colors were an instant hit among mobile users, as it allowed them to differentiate themselves from other Nexus 5 users.
Hangouts is the Default Text Messaging App
In a rather surprising move, Google decided to use its new Hangouts service as the default texting application for the Nexus 5. This was the very first time Google had used Hangouts in a smartphone, so it was a big gamble for the tech giant. And while it has some problems during the first few weeks, the service lived up to its expectations of delivering fast and efficient messaging capabilities.
It Supported Wireless Charging
Wouldn't it be great if you could charge your smartphone wirelessly? Well, this is actually a featured supported by the Nexus 5. Many users are surprised to learn that the Nexus 5 can be charged wirelessly, using a special feature located within the OS.
Know any other fun facts about the Nexus 5 that you would like to share with our readers? We'd love to hear them in the comments section below!
Image attribution: http://www.flickr.com/photos/lge/10600449773/
Summary
Article Name
5 Fun Facts About the Original Nexus 5
Description
Nexus 5 users have appreciated its awesome features, but here's a few fun facts you might not know.
Author