5 Reasons Why You Should Buy The Google Nexus 5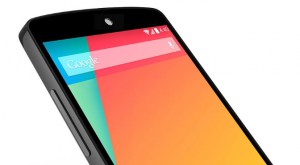 With the Nexus 5's one-year anniversary right around the corner (October 31), some people assume the device is growing obsolete. After all, how can a smartphone such as the Nexus 5 remain relevant after being on the market for nearly a year? Well, it is still relevant, and there are plenty of reasons why you should have.
#1) It's a Google Device
With Google's name on it, you can rest assured knowing the Nexus 5 is a high-quality device that will withstand the hands of time for years to come. And if you ever run into any problems, you can contact Google's technical support line for assistance (assuming you purchased it through Google Play). This alone is reason enough for many people to choose the Nexus 5 over other leading smartphones.
#2) Inexpensive
To say the Nexus 5 is "inexpensive" would be an understatement. While the Apple iPhone 5S, Samsung Galaxy S5, and HTC One (M8) are typically sold for $600+, the Nexus 5 is available for just $349 (16GB) — and that's without a contract. So if you're looking for a high-end smartphone but don't want to break into your savings account, consider upgrading to the Google Nexus 5.
#3) Gorilla Glass Screen
It's downright frustrating  when you purchase a new smartphone only to drop and crack the screen just a few days later. Well, Google has added a barrier of protection to prevent such disasters with its Nexus 5. The Nexus 5 boasts Corning Gorilla Glass, which protects it against cracks, scratches and other forms of damage. I still don't recommend tossing your Nexus 5 on the pavement, but the Gorilla Glass will protect the screen against minor forms of damage.
#4) Wireless Charging
One frequently overlooked feature of the Google Nexus 5 is wireless charging. Using the included wireless charging hub, users can recharge their device without connecting it directly to a wall outlet. Rather than running a long power cord across your living room or bedroom floor, you can use this nifty feature to charge your device via wireless technology.
#5) CDMA and GSM Compatibility
The Google Nexus 5 is compatible with both CDMA and GSM networks. As of writing this post, three of the four largest U.S. cell carriers support the Nexus 5 — Sprint, AT&T, and T-Mobile. Unfortunately, Verizon Wireless has yet to add the Nexus 5 to its line of supported products, but there rumors about the carrier potentially adding it (or future Nexus devices) in the future.
Did we leave any reasons out? Let us know in the comments section below!