Android 5.0.1 Released For Nexus 5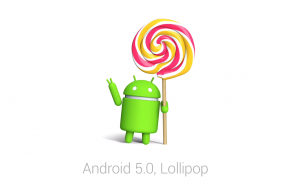 It seems like Google just recently released Android 5.0 Lollipop for Nexus 5 users, but now there's already a new version of the OS available. Although smaller in size, Android 5.0.1 aims to fix various bugs and vulnerabilities. Before you click the install button, though, you should check out our review of the latest update below.
One of the perks of being a Nexus 5 owner is that you're the first to receive new Android updates. There's no denying the fact that Google plays favorites, releasing new OS updates to Nexus devices before the rest. Just last week, the Mountain View company began its rollout of Android 5.0.1 Lollipop for Nexus 5 users. So, how does the update fare when compared to previous updates?
The roughly 10MB Android update isn't as significant as the original Android 5.0 Lollipop update. Android 5.0 Lollipop introduced a wide range of new features to Nexus 5 users, including a Material theme, new notifications and messaging system, and even a power-saving technology dubbed Project Volta. Now for the bad news: Android 5.0 Lollipop also produced some bugs, some of which were minor whereas others were more severe.
According to GottaBeMobile.com, Android 5.0.1 doesn't improve the Nexus 5's battery life. Of course, this shouldn't be much of an issue in the first place, considering that the Nexus 5 already boasts over 17 hours of talk time. The new Android update does fix some connectivity issues that Nexus 5 users were previously experiencing. Several Nexus 5 users complained about dropped calls and dropped WiFi after upgrading to Android 5.0 Lollipop. This prompted Google to make a quick fix, at which point Android 5.0.1 was released.
Like most Android updates, Android 5.0.1 is being sent to Nexus 5 users as an over-the-air (OTA) update, meaning it will automatically download by default. Once the download is complete, it will ask if you'd like to install the update. Click the Install button and installation of Android 5.0.1 will begin. The entire installation process should only take a couple of minutes since the file is just 10MB.
So, should you install Android 5.0.1? Absolutely! It's not the largest update in the history of Android, nor does it introduce any notable features, but it does fix some bugs and errors.
Note: if you're looking to install a custom ROM version of Android 5.0.1 Lollipop, check out the International Business Times tutorial here.
What are your thoughts on Android 5.0.1? Let us know in the comments section below!