Get Nexus 5 at Sprint Black Friday Sale
Sprint Black Friday Deals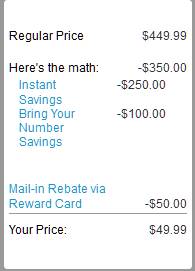 Sprint is kicking off its Black Friday deals earlier than usual this year. According to a press release from November 20, Sprint has decided to announce the deals the company will be offering during next week's Black Friday shopping events.
From instant rebates to lower than normal financing on devices, everyone will be able to get their hands on something from Sprint – and as far as we can tell, these Black Friday deals include discounts on the Nexus 5.
Bring Your Number Savings
According to the press release, Sprint's big savings event is an extended event that is starting earlier than Black Friday, which falls on November 28 this year.
Included in Sprint's Black Friday deals is the Bring Your Number Savings.
This deal is for customers who bring in a phone to switch to Sprint. Sprint notes that any customers who switch their service from another wireless carrier to sprint will receive a discount for up to $100 off any mobile phone purchase – and this includes the Nexus 5.
On the other hand, if you switch to Sprint while also selecting the Sprint One Up financing option, you could walk away with the Nexus choice while paying $0 deposit, and $0 in financing costs – and you'll will receive a Visa Prepaid Card for $100.
Those who wish to take advantage of this and the above $100 instant discount offers can do so from November 22 until November 27.
The Fine Print
To take advantage of the $100 instant discount offer, you have to be a new Sprint customer, and you have to purchase what Sprint determines is a qualified device from their Holiday Deal web page.
Unfortunately, current Sprint customers are not eligible for this offer, so you'll have to pay full price for your Nexus 5 if you get it from Sprint.
If you choose to switch to Sprint, you will have to pay activation fees, in addition to the likely kill fee your former wireless carrier might charge you if you happen to be canceling your contract with them before it is due. However, it is no big surprise that Sprint also charges a kill fee, called an early termination fee, and it can cost up to $350 per line if you decide to cancel your contract with Sprint before it is due.
Will you get your Nexus 5 from Google Play, T-Mobile, Sprint, or elsewhere? Let us know in the comments!