Google Nexus 6 Rumored Specs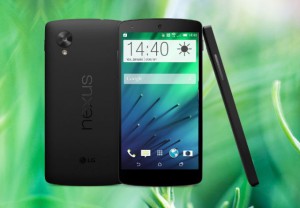 As we approach the 1-year anniversary for the Nexus 5, many people are wondering if Google will release another version of its flagship smartphone. The answer to this question is yes, it's safe to say that Google will in fact release a Nexus 6 some time in the near future. So, what kind of specs will Google include in the Nexus 6?
Google has used LG to build previous versions of its flagship smartphone in the past, but reports suggest the company will take a different approach with the Nexus 6. We still don't know who's going to receive the contract to build the device; however, Motorola and HTC are both possible candidates. People close to the project say Google is trying to revamp its flagship smartphone, and in order to do so, it must use a different OEM.
The Nexus 5 was (and still is) touted for having a big and bold 4.95-inch display screen, which of course blows the Apple iPhone 5's abysmal 4-inch screen out of the water. But rumors suggest Google will take the Nexus 6 screen up a notch, possibly using a whopping 5.9-inch display. This would obviously fall on being borderline phablet, which may turn some users away. Honestly, though, a 5.9-inch screen is a perfect size for viewing movies, media, playing games, texting, and doing the hundreds of other tasks the average user performs on his or her smartphone.
Regarding the physical body of the Nexus 6, we still don't know whether Google will stick with its current soft-plastic build or use an all-metal design. We've heard rumors of Google eyeing an all-metal design to create a more premium look and feel. On the other hand, there's no evidence that supports this theory. Users responded well to the Nexus 5's soft-plastic body, so this is an element that may remain unchanged in the Nexus 6.
Now for the heart of the Nexus 6: it's processor. There are two plausible scenarios for the Nexus 6's processor, one of which is the quad-core MT6732 1.5GHz, MediaTek 64-bit processor, and another is the quad-coreMT6752 octa-core 2GHz. Both of these would offer superior processing speeds to the Nexus 5's current Qualcomm Snapdragon 800 processor. Granted, it will likely bump up production costs, and subsequently costs to the consumers, but it's safe to assume that Google will add a faster processor to the Nexus 6.
What kind of specs do you hope to see in the Google Nexus 6? Let us know in the comments section below!