Is This The Google Nexus 6?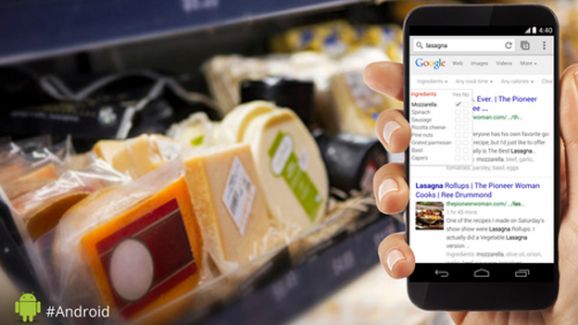 Being that October 31 is the official 1-year anniversary of Google's flagship smartphone, the Nexus 5, we can expect the search engine giant to release a new version soon. While Google has yet to officially confirm a Nexus 6, we saw an image of what appears to be a new Nexus variant pop up on Twitter (see image above). So, is this the upcoming Nexus 6?
The tweeted image depicts a person, whom we believe to be shopping at a grocery store or supermarket, searching for "lasagna" on Google using their smartphone. The actual body of the mystery device is practically identical to the Nexus 5 — featuring the same distinct black color along with the three buttons at the bottom. But this device clearly isn't the Nexus 5, leading some people to believe Google is teasing us with a sneak peak at its upcoming Nexus 6.
Upon doing some investigative work on the image, we discovered it was tweeted by the official @Android account. It's not uncommon for other people, companies and organizations to tweet supposedly "leaked" photos of upcoming smartphones and devices, but this photo was released by Android, adding even more credibility to it.
"#Android makes even the most difficult grocery store choices simple.  #OKGoogle," wrote Android developers on the official Android Twitter account.
Now for the bad news — this probably isn't an actual photo of the Nexus 6. Several news sources claim it's merely a marketing tactic used by Google to draw attention to its upcoming I/O Developers Conference on June 24 and 25. Google has done similar stunts like this in the past, releasing photos of mystery devices to gain media attention. And with the Developers Conference on the horizon, there's a good chance the search engine giant is trying to pull a fast one on the general public this time around as well.
Cnet.com also reports that Google is planning to end its Nexus like of products this year; therefore, it's highly unlikely that they will be releasing a Nexus 6. If they are going to end the Nexus line, why would they continue to develop a Nexus 6? Of course, this hasn't been confirmed by Google, so there's still hope for consumers who want to get their hands on a new Nexus 6. Even if Google does retire its Nexus line, we'll see new smartphones and tablet computers released by the company.
What kind of features do you hope to see in the Google Nexus 6? Let us know in the comments section below!