Is a New KitKat 4.4.2 Update On The Horizon For Nexus 5 Users?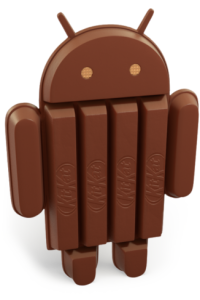 The latest version of Google's delicious chocolate-branded Android operating, KitKat 4.4.2 KOT49H, continues to frustrate Nexus 5 users with its numerous bugs and errors. It's so bad, in fact, that some users are downgrading their devices to previous versions.
Before you take such brash action on your Nexus 5, you may want to wait a while, because there's a good chance that Google will release a new KitKat 4.4.2 update in the near future.
Breadcrumbs Pointing To a New KitKat 4.4.2 Update
While Google remains silent on the issue, there's strong evidence supporting a new KitKat 4.4.2 update. The computer storage community website, Myce.com, recently announced the discovery of a new KitKat 4.4.2 update lingering in the Chromium bug tracker. They found an entry where a Nexus 5 was running KOT49K, which is currently not available for download.
As previously stated above, the most recent version of KitKat 4.4.2 is KOT49H, not KOT49K. As reported on their site, "The build is running on an Hammerhead (Nexus 5) device and according to the reporting user is another Android 4.4.2 build. The same build number can also be found on websites that track user agents."
There's also an interesting date code buried within the build. The date code, T49, suggests it was created in the fourth quarter of 2013. However, in a response by Google, the search engine giant noted that the date codes found in the Chromium bug tracker are not necessarily the exact date when a build was made.
Why The New Update
Well, where do I start? If you recently upgraded your Nexus 5 to the Kitkat 4.4.2 Android operating system, chances are you've experienced quite a few problems with your device. One of the biggest complaints of the latest KitKat 4.4.2 operating system update on Nexus 5 devices is failure to ring when someone calls. You may see the caller's name and number appear on your device, but for some reason it won't ring — even if your Nexus 5 is set to ring rather than vibrate or silent.
Another issue that's commonly reported with KitKat 4.4.2 is slow charging. There have been numerous reports of Nexus devices taking 8 or more hours to fully charge. Having to wait around an entire day for your device to charge is bound to create some frustration. Hopefully, this new KitKat 4.4.2 update will solve some of these issues, allowing Nexus 5 users to take full advantage of their device.
So, what's your take on the current KitKat 4.2.2. build? Would you eagerly install a new update in hopes of fixing some of these problems?