Nexus 5 Rumored to Sport Android Camera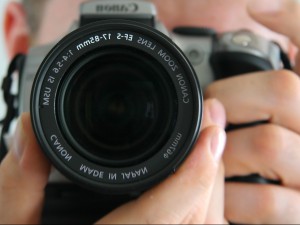 The original Nexus 5 was arguably one of the hottest smartphones of its time. Featuring a quad-core Qualcomm Snapdragon 800 processor, 2GB of random accessory memory (RAM), and the barebones "vanilla" version of Android, it was — and still is — a true beast.
However, one of the complaints that some users had involved its camera. At just 8 megapixels, the Nexus 5 didn't have the sharpest camera on the market. Many people are expecting Google to address this complaint in its upcoming Nexus 5 reboot, which will almost certainly feature a better camera.
So, what kind of camera can you can expect to see in the new Nexus 5? We probably won't receive an official word on the N5's camera until Google announces the new handset, which is expected to happen on September 29 during a press event. With that said, rumors have been circulating the net suggesting that the Nexus 5 reboot will sport either a 13 or 16-megapixel camera with LED flash. Being that the original Nexus 5 had just an 8-megapixel camera, jumping up to a 13 or 16 megapixel is a pretty substantial difference.
Having owned the original Nexus 5, I can personally say that its camera was one of its weakest features. This doesn't necessarily mean that it was the worst camera on the mobile market, but it paled in comparison to the photo-taking abilities of the HTC One (M8), Galaxy S5, and even the iPhone 5 and 5S. The clarity was sub-par; the color was lackluster; and it had poor shutter response. While Google improved the Nexus 5's camera with some follow-up Android patches, it still lacks the quality of cameras found in similar spec'd smartphones.
In addition to a larger and more powerful camera, the new Nexus 5 is also expected to feature a new app called Google Camera 3.0. The folks over at AndroidPolice first broke this story, suggesting that the Nexus 5 (called Nexus 5X) will be launched in conjunction with an Android camera app called Google Camera 3.0. Whether or not this rumor is true remains to be seen, but AndroidPolice has a pretty solid track record of publishing accurate information on its website.
Unfortunately, we don't know much else about Google Camera 3.0. Perhaps Google has engineered the perfect photo app for Android (we hope), or maybe it's just a renamed version of its existing camera app. In any case, rumors indicate that Google Camera 3.0 will be included in the new Nexus 5.
Check back with our blog here TheNexus5.com for all of the latest news surrounding Google's upcoming N5 reboot! With September 29 fast approaching, we'll be sure to bring you all of the details regarding this highly anticipated handset.
What kind of camera are you hoping to see in the new Nexus 5? Let us know in the comments section below!
Image attribution: https://www.flickr.com/photos/bigtallguy/
Summary
Article Name
Nexus 5 Rumored to Sport Android Camera
Description
Most would agree, the original Nexus 5's weakest point was its camera. Rumors say Google will release the new Nexus 5 with a much improved 13 or 16-megapixel camera.
Author