Benchmarks for Huawei Nexus 5 Spotted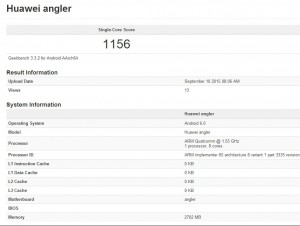 With just two weeks until a possible 2015 Nexus 5 announcement, many people (including myself) are wondering what kind of specs this highly anticipated handset will boast. Google is known for raising the bar from year to year, delivering the market's fastest and most powerful smartphones. The Nexus 5 reboot should be no exception, as all rumors indicate that it will be one of the year's top-selling handsets.
If you keep up with our blog here at TheNexus5.com, you are probably well aware that Google is planning to release not one but two different versions of the 2015 edition Nexus 5. One version will be manufactured by LG, while the second version will be manufactured by Huawei. Of course, there's been no official confirmation by neither Google, LG, nor  Huawei. However, all indications suggest the rumor is true. So, what kind of hardware will these two Nexus 5 devices pack?
The folks over at Geekbench have posted benchmarks for what appears to be the new Huawei Nexus 5. According to these benchmarks, the Huawei Nexus 5 will sport an octa-core Qualcomm Snapdragon 810 processor clocked at 1.55GHz, 3GB of random access memory (RAM), and it will run Android 6.0 Marshmallow, which is the successor to Android Lollipop.
The Huawei Nexus 5 received a single core score of 1156 and a multi-core score of 3641 on the Geekbench benchmarks, which is pretty impressive to say the last. The HTC (M9) — HTC's latest flagship smartphone — received a similar score, albeit slightly lower. Compare those numbers to the iPhone 6 Plus, which received a 1607 single-core and 2888 multi-core score.
As you can see, the benchmarks don't reveal much about the Huawei Nexus 5, other than its processor, RAM, and operating system. But we've seen other rumors in recent news that suggest the Huawei Nexus 5 will have a 5.7-inch full-HD IPS display, 32-64GB of internal storage, a fingerprint scanner, a 13-megapixel rear-facing camera, and a secondary front-facing camera of unknown megapixels.
So, how will the Huawei fare against its LG counterpart? Geekbench has yet to release the benchmarks for the LG Nexus 5 (2015), but it's rumored to be a more the more affordable option of the two; therefore, it's safe to assume the LG Nexus 5 will feature lower specs than the Huawei version. One possible difference between the two handsets is the display size. The Huawei Nexus 5 is rumored to sport a 5.7-inch display, whereas the LG version is expected to have a slightly smaller 5.2-inch display. Another possible difference is the RAM. Some sources are claiming that the LG Nexus 5 will have 2-3GB of RAM, while the Huawei version may pack 3-4GB of RAM.
Google's secretive event it scheduled for September 29, so mark your calendars because this is the most likely time when it will announce the new Nexus 5. Assuming Google uses this event at a platform to announce the handset, we should receive an official word on the devices' specs as well.
Do you prefer the Huawei or LG Nexus? Let us know in the comments section below!
Summary
Article Name
Benchmarks for Huawei Nexus 5 Spotted
Description
With the rumored release of the 2015 Nexus 5 just two weeks away, we're excited to hear the impressive benchmark scores of the reportedly larger Huawei version of this smartphone.
Author