Review: LG QuickCover For The Nexus 5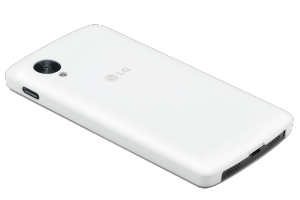 Still searching for the perfect case for your Nexus 5? The LG QuickCover is a simple yet highly stylish and equally durable case designed for the Nexus 5. It may lack attractive features like a waterproof shell or extended battery, but it's still a viable, high-quality case nonetheless.
Google currently sells two Nexus 5 cases through its Google Play store: the official "Bumper" case and the LG QuickCover. Being that it's sold through Google Play, you can rest assured knowing this case is the real deal.
The Nexus 5 features a hard plastic outer body that's not exactly comfortable to hold. Don't get me wrong, plastic is probably the best choice of material to use in a smartphone due to the fact that it's strong, durable, lightweight and doesn't rust or decay. The downside to using plastic is that it's somewhat uncomfortable. The LG QuickCover solves this problem, however, by offering a soft rubber body to the Nexus 5.
When compared to the Nexus 5 Bumper case, the LG QuickCover is slimmer and more compact. According to the product specifications listed on Google Play, it measures approximately 74 x 140 x 12 mm and weighs just 39 grams. This, of course, is much smaller than the Bumper case. The slimmed down design makes is particularly attractive for users who don't want a bulky smartphone weighing down their pockets throughout the day.
It's important to note that the LG QuickCover case doesn't cover the power button, volume up/down buttons, or the speakers. These components are left open and exposed to damage, even when the case is used.
Being that it's a flip-case, using the QuickCover means you'll have to open the flap each time you want to use your Nexus 5. Whether it's to place a phone call, receive a phone call, send a text, check your email, etc., you must open the flap to access your Nexus 5. This may turn away some users, but others may find it helpful in protecting the screen from damage.
"The LG QuickCover for Nexus 5 features a custom-fit unibody case and matte finish front cover for stylish protection from dings and scratches. Get access to your basic UI without swipe unlock by simply opening the front cover. For quick convenience without the bulk, the LG QuickCover works seamlessly with wireless chargers so you can charge with ease."
The LG QuickCover is available in black or white styles, both of which can be purchased for $49.99 through Google Play.
What do you think of the LG QuickCover? Let us know in the comments section below!