Google Nexus 5 Price Lowered To $329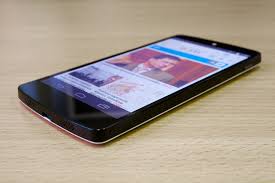 Google has remained firm on its Nexus 5 pricing ever since the device first hit the market last October. The 16GB model is available for $349 through Google Play, whereas the 32GB is available for $399. While the Mountain View company has yet to reduce the price on its flagship smartphone, the device can now be purchased through eBay for $329.99.
$329 for one of the market's leading smartphones is a steal, especially considering its specs. The Google Nexus 5 boats a full 4.95″ display (bigger than the iPhone 5S), Android 4.4.4 KitKat,  Full HD IPS display, 2,300 mAH battery with 17 hours of talk time, Qualcomm Snapdragon™ 800, 2.26GHz processor, Bluetooth connectivity, Dual-band Wi-Fi (2.4G/5G) 802.11 a/b/g/n/ac, CDMA/GSM compatibility, wireless charging technology, and more.
Granted, $329.99 is not a huge savings by any means. When compared to the Nexus 5's original price of $349, that's about a 5% discount. With that said, the Nexus 5's price has remained firmed since the day it was initially launched. So if you've been waiting patiently to purchase the Nexus 5 at a discounted price, now is the time to do so. It's important to note, however, that the Nexus 5 isn't being sold directly through Google. Instead, it's the retailer Altatac via eBay.
So, why are we seeing the Nexus 5 sold at a discount price? It's not uncommon for retailers to lower prices in an attempt to get rid of excess inventory. There's a good chance that Altatac is sitting on a hefty supply of Nexus 5 devices and it needs to make room for other products. Rather than selling the Nexus 5 at its market price of $349 for the 16GB version, it's dropping the price slightly lower to attract more buyers. That 5% discount can make a world of difference in encouraging consumers to purchase.
Of course, another possible reason why we're seeing a lower Nexus 5 price is because there's a new version on the horizon. We've heard several rumors about Google releasing the Nexus 6 in the upcoming months. Being that Google typically releases a new device once a year, it's almost time for the Nexus 6 to be released.
Should you purchase the Nexus 5 or wait for the Nexus 6? I guess this is a personal preference that only you can decide. We still don't know the specs of the Nexus 6, nor do we know its price. But $329 for the current Nexus 5 is a steal of a deal.
Do you think $329.99 is a good deal for the Nexus 5? Let us know in the comments section below!