Virgin TV Anywhere Now Available For The Google Nexus 5
Good news Nexus 5 users: the streaming TV app Virgin TV Anywhere is now available for all smartphones and tablet computers running Android KitKat 4.4. Up until now, this service has been strictly limited to Apple users on the iOS mobile operating system. Virgin Mobile mad the wise decision to broaden their horizons, however, by introducing their streaming TV service to Android-powered devices, including the Nexus 5.
Virgin TV Anywhere was originally launched back on September 7, 2012 as a service that allows users to watch streaming television shows and on-demand programs through their smartphone or tablet computer. Since that time, the U.S. cell company has added new programs and features to improve the service. Virgin TV Anywhere is now a versatile app that offers more than your basic streaming TV service.
Got TiVo? Here's Why You Should Use Virgin TV Anywhere On Your Nexus 5.
In addition to watching your favorite shows, Virgin TV Anywhere allows customers to control their TiVo box using their smartphone or tablet computer. How would you like to control your TiVo box using your Google Nexus 5? Well know you can thanks to the introduction of Virgin TV Anywhere on Google Play.
You can download and install the Virgin TV Anywhere app (Android version) for free by clicking here.
"Got Virgin Media TiVo® Service on your telly? Meet Virgin TV Anywhere! It lets you watch live TV, wherever you connect to WiFi in the UK, on selected Android mobile phones and tablets. What's more, you can manage your recordings on the move, as well as search, browse, discover and share what you're watching on 3G/4G mobile connection or with WiFi. Plus, you can use it at home as a clever remote control."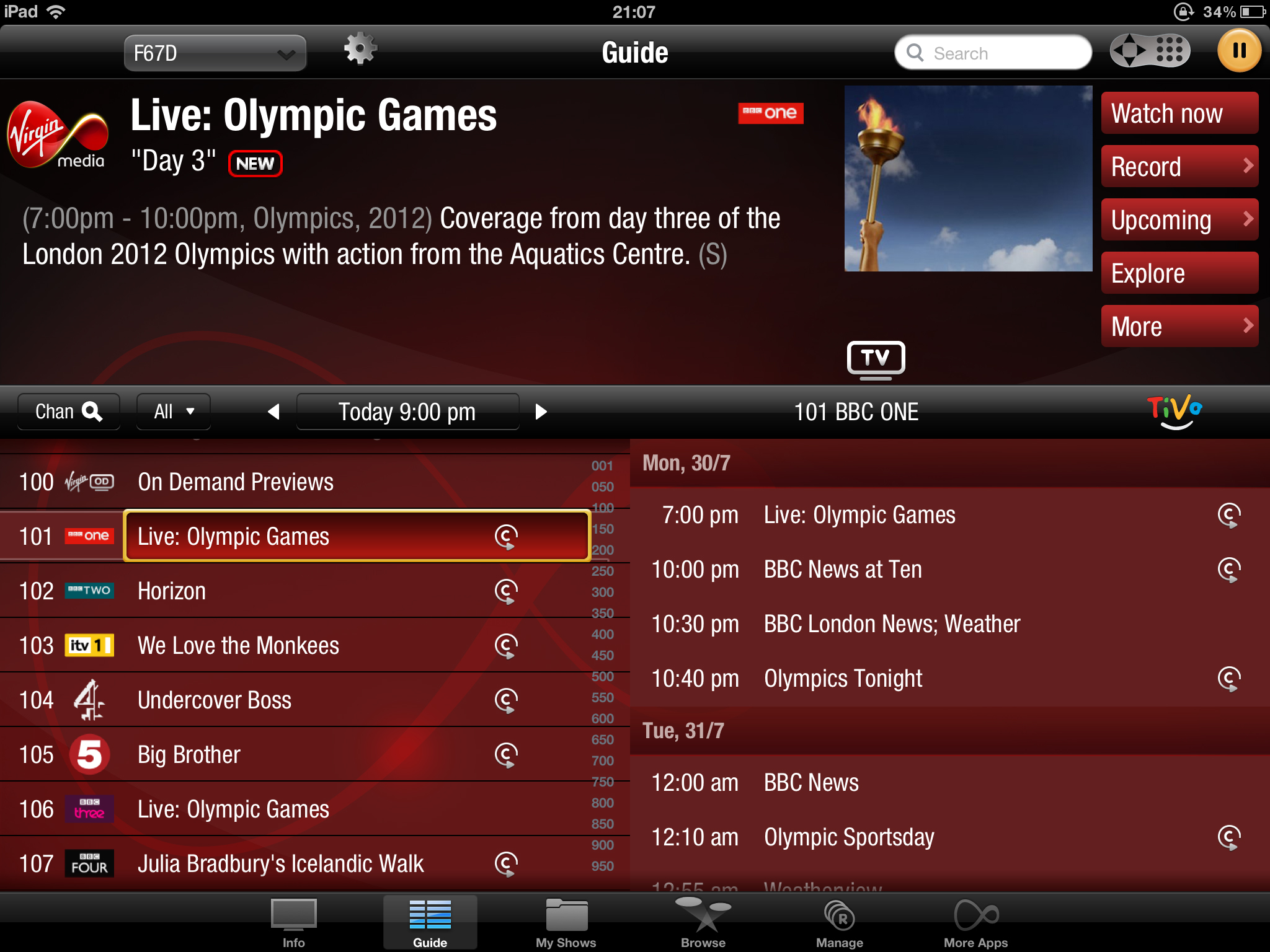 Virgin TV Anywhere Features:
Watch live streaming television.
Control your TiVo box using your smartphone or tablet computer.
Set up new programs to record.
Share your favorite shows with friends.
Research the cast and crew of your favorite shows.
Delete recordings on your TiVo box to free up space.
Viewable TV guide to check upcoming programs 14 days in advance.
Note: Virgin TV Anywhere is only available for TiVo customers. If you don't own a TiVo box, do not attempt to download or use this app, as it won't work. This is the biggest complaint users have regarding Virgin TV Anywhere.
Do you enjoy watching television programs on Virgin TV Anywhere? Let us know in the comments section below!