Will the New Nexus 5 Only Have 2GB of RAM?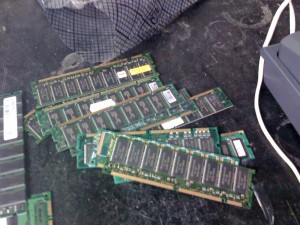 This is certainly a possibility. When Google launched its original 2013-2014 edition Nexus 5, it included a solid 2GB of random access memory (RAM), which was more than enough memory at the time. As Android and its respective apps have evolved since then, however, there's now a greater demand for more RAM, which is why so many handsets are powered by 3GB or even 4GB or RAM. So, how much RAM will the new Nexus 5 sport?
Unfortunately, there's still no word official word yet regarding specs for the new Nexus 5. Rumors indicate that Google will announce the secretive handset on September 29, so we'll probably get an answer then. Until that time, though, we're left to speculate on things like RAM, processor, internal storage, camera, and other hardware. With that said, previous rumors have hinted that it will sport a solid 3GB or even 4GB of RAM, which would make sense considering the original Nexus 5 had 2GB.
Why would Google use 2GB of RAM in the new Nexus 5 handset instead of upgrading to 3GB or 4GB? According to SlashGear, only the LG version will sport the 2GB RAM, whereas the Huawei version will likely have either 3GB or 4GB. The website claims to have received an "internal slide" from a "Korean company," which reveals the handset's specs. Among those specs is a 5.2-inch Full HD screen, Qualcomm Snapdragon 808, and 32 or 64GB internal storage.
Of course, the most notable specs of the alleged LG Nexus 5 leak is its 2GB of RAM. Assuming this rumor is true, that means Google did not attempt to upgrade the RAM from its original Nexus 5, which was released nearly two years ago.
"According to the leak source, the specs for this Nexus 5 also matched what we've heard so far except for one detail. Instead of 3 GB RAM, which would be an upgrade, it has only 2 GB, the same as the current Nexus 5," wrote the folks at SlashGear.
RAM is arguably the single most important piece of hardware in a smartphone. This volatile form of memory is used to store bits of data so apps can run faster and more efficiently. Unlike internal storage, which is non-volatile, RAM is erased each time the handset is powered off. It's not until the handset is booted back up when data is re-written to RAM.
But then again, the performance of RAM doesn't rely strictly on its size. Some brands/types of RAM are faster than others. So even if Google opts to use 2GB of RAM in the new Nexus 5, it may still prove to be faster than the original Nexus 5. I guess we'll have to wait until September 29 to hear the final word on just how much RAM the new Nexus 5 will sport.
How much RAM do you think is appropriate for the new Nexus 5? Let us know in the comments section below!
Image attribution: https://www.flickr.com/photos/yum9me/
Summary
Article Name
Will the New Nexus 5 Only Have 2GB of RAM?
Description
The original Nexus 5 had 2GB of RAM - rumors have it that the LG version of the 2015 Nexus 5 will only have 2, but what about the Huawei version?
Author