Yellow Google Nexus 5 Variant Rumored To Launch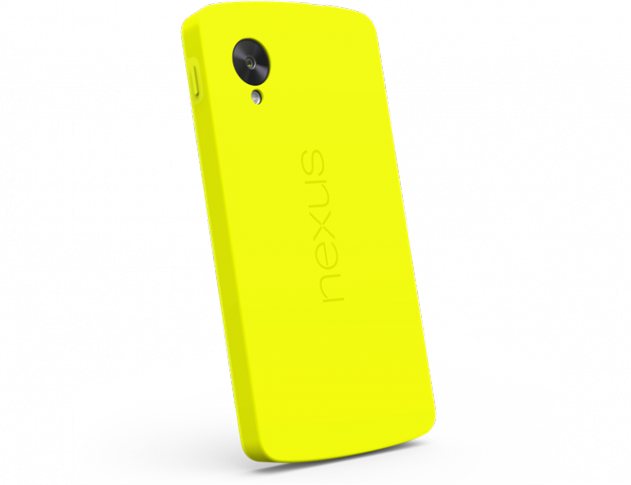 When Google initially released its Nexus 5 smartphone on October 31, 2013, the only color options from which consumers had to choose were black and white. It wasn't until earlier this year when the Mountain View company added red to its lineup of colors. But it looks like Google isn't stopping there, as several sources have reported a yellow-colored variant Nexus 5 on the horizon.
So, how do we know that Google is planning to release the Nexus 5 in a yellow variant? While the company hasn't placed the yellow color on Google Play as of yet, Android.com has the variant listed. Being that Android.com is owned and operated by Google, it's safe to say this is a credible source of information.
But that's not the only evidence pointing towards a future yellow Nexus 5 variant. A Google employee released the following statement regarding the Nexus 5, in which he states the available colors as being white, red, and yellow.
"The Nexus 5 helps you capture the everyday and the epic in fresh new ways. At only 4.8oz and 8.59mm thin, it's slim and light, packing a stunning 5″ display and powered by Android 4.4, KitKat," wrote a Google employee, describing Google's flagship smartphone. "Nexus 5 is precision-built from strong materials, and the intelligently simple design showcases more of what matters to you. It's the most powerful Nexus phone yet — and it comes in black, white, red, and yellow."
Of course, some people may turn their heads at the thought of using a yellow smartphone. After all, it's not exactly a popular color among males or females. Personally, though, I think the yellow color is a fresh alternative from the traditional black, white, and now red Nexus 5. It's bright, bold, and in the event that you ever lose your Nexus 5, it will stick out like a sore thumb!
If you were hoping for new and improved hardware specs, you'll probably have to wait until the next line of Nexus devices hits the market. There's been no evidence suggesting that the yellow Nexus 5 will sport any new changes other than the color of its body. The yellow variant will sport the same 4.95-inch display (with Gorilla Glass 3), CDMA/GSM-compatibility, True HD IPS+ capacitive touchscreen with 1080 x 1920 pixels, 16/32 GB storage, 8-megapixel primary camera, 1.3-megapixel secondary camera, quad-core Snapdragon Qualcomm 800 processor running at 2.3 GHz.
Would you purchase a yellow-colored Google Nexus 5? Let us know in the comments section below!