2 Ways To Perform a Factory Reset on The Nexus 5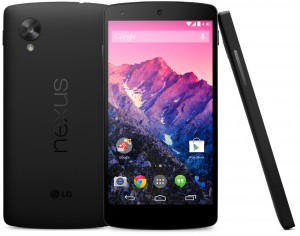 Looking to restore your Google Nexus 5 back to its original factory settings? There are actually two different ways to accomplish this, one of which involves using the Settings menu, whereas the other involves a force reset via Recovery mode. Both techniques yield the same results, but there are times when the Settings menu may be inaccessible, which is why it's a good idea to familiarize yourself with the Recovery mode.
Before we start, it's important to note that performing a factory reset will erase all data from your Nexus 5, reverting it back to the way it was when you first acquired the device. This means all of your photos, videos, text messages, apps, MP3s, etc. will be erased, so make sure you've backed up your data before proceeding
Factory Reset via the Settings Menu
To perform a factory reset using the Settings menu, fire up your Nexus 5 and tap Settings > Backup & reset > Factory data reset > Reset phone. Assuming you have lock screen enabled, you'll be asked to enter your PIN or password. Go ahead and unlock your Nexus 5, at which point you'll receive one final prompt asking you to confirm the factory reset. Touch the Erase everything button and the process will begin. Once complete, your Nexus 5 will reboot, returning in a fresh, factory-built state. Sorry if you were expecting more, but that's all it takes to perform a factory reset on the Nexus 5 via the Settings menu.
Factory Reset via Recovery Mode
Of course, there are times when users will be unable to access the Settings menu. If their Nexus 5 has a virus or some other type of malicious software on it, this may prevent them from even loading the Home screen, let alone accessing the Settings Menu.
To perform a factory reset via Recovery Mode, turn off your Nexus 5 and press and hold both the Volume Up and Volume Down buttons simultaneously, and then press and hold the Power button. This should turn on your Nexus 5, at which point you'll see a "Start" button with an arrow. Next, press (don't hold) the Volume Down button twice to toggle the Recovery button, followed by pressing the Power button to enter Recovery mode. Assuming you followed the steps correctly, you'll see the Android robot icon with a red exclamation mark saying "No command." Press the Volume Down button twice to select the factory reset option, followed by the Power button to enter it. Using these same commands, select the "Yes – erase all user data" option, and the factory reset will initiate.
Did this tutorial work for you? Let us know in the comments section below!
Summary
Article Name
2 Ways To Perform a Factory Reset on The Nexus 5
Description
Occasionally, you might find it necessary to reset your Nexus 5. There are two ways it can be done, read on to learn more.
Author